about brian and nicole
Animals have always been an integral part of our lives, especially dogs and cats. In 2004 we knew it was time to give back to the animal community, for all the joy they had given us. Drawing on years of exposure to many types of training, we headed to the Michigan Humane Society to become volunteer trainers and work with their Behavior Helpline. We are still active volunteers with the Behavior Helpline and continue to support this excellent resource. In 2006, Brian began doing private sessions and found a unique niche in his training practice and clientele: treating the WHOLE dog, in a holistic, whole life manner.
The idea for Herr Pet Training started in 2005 with the adoption of our second dog, Tully. Most people think that trainers have instantly perfect dogs — we don't. He came to us with enough baggage and issues to fill a book and then some. We learned that "fixing" the bad behaviors wasn't the best approach — we needed to look at his history and background and start from there. We learned that it was vital to first learn to communicate with him ... to speak his language. In the last few years we have learned volumes from him about animal behavior, canine learning and the best ways to teach a "not so perfect" dog. From Tully, our philosophy was born.
We are full members of the Association of Pet Dog Trainers (APDT)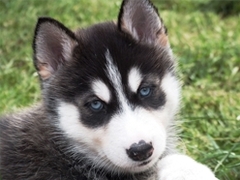 Need training tips?
Nicole and Brian Herr provide in-depth weekly training videos on the Oakland Press web site in the K-9 Classroom section.